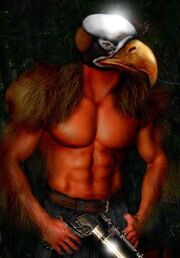 Vultureman
is a crafty,
vulture
-like opportunist who serves as chief
inventor
and mechanical know-it-all for the Mutants. His skills with both machines and science make him frequently indispensable, but he is more often than not blamed when his devices or machines fail to live up to Slithe's expectations (In one episode, he grew tired of this and activated a hidden self-destruct mechanism in every single machine and vehicle the Mutants used, telling them that if his work was really so bad, then "See how you do without them!"). As befits a scientist, Vultureman is inquisitive and open-minded, frequently leaving him odd-man-out among his more barbaric peers. Much later, he decides to work for his own gains, and he often strikes solo deals with Mumm-Ra. He pilots a vulture-styled Flying Machine, carries a crossbow-shaped weapon, and later commands weapons like the Mutank and Thundrainium Cannon. Unlike the other Mutants, Vultureman was not introduced in the opening episode of the series, but a flashback reveals him working with Slithe years earlier.

In the 2011 Animated Series, he is renamed Vultaire and is a prefect of Avista. Like the other birds in this series, Vultaire is shown with wings on his back (where the 80's version didn't have wings). Vultaire's ancestors entrusted with the Tech Stone by Leo and used it to build a city in the sky, founding a futuristic utopia with the stone's power keeping Avista afloat. Like many of his kind, Vultaire is arrogant and sees himself above those who live on the land, especially the ThunderCats whom he considers to be manipulative barbarians. When the Thundercats arrive to Avista for the Tech Stone, Vultaire accepted Tygra's challenge for the item to obtain the two stones in his group's possession. But upon losing, Vultaire refuses to honor his end of the deal and places Thundercats under house arrest. He was momentarily held hostage by Pumrya in order to gain access to the Tech Stone. However, Vultaire purposely left the security system active as it knocked out Pumyra while having his guards escort the Thundercats to be thrown out of Avista with the trash before Mumm-Ra's forces make their move. Though aiding the Thundercats in fighting off Mumm-Ra's army, Vultaire betrays his fellow Avistans and aligns himself with Mumm-Ra upon witnessing his power firsthand. After shooting down Tygra's jet to earn a place in the generals' ranks, Vultaire joins Slithe, Kaynar, and Addicus into fighting Tygra, Panthro, and Cheetara prior to the latter knocking him out before Tygra can get payback for the bird's treachery. After Mumm-Ra claimed the Tech Stone, Vultaire joined Mumm-Ra's forces into retreating from Avista.The smartest of the Mutants, is a mechanical genious that rivals Panthro's skill and ingenuity. He built all of the Mutants weapons, vehicles and gadgets, he is irreplacable. Even though he follows Slithe's leadership, he secretly awaits the return of their true leader, the warlord Ratar-O.