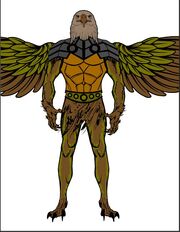 Full Name: Sqribek Talen
Affiliation: The Freedom Confederacy
Base of Operations: Raven Point
                               STATUS

Battles/Wars: Aves Uprising
Race: Eagle
Marital Status: Married
Primary Military Specialty: Aerial Combat
Secondary Military Specialty: Bombardier
Weapon of Choice Trilance
                               CHARACTERISTICS

Gender: Male
Height: 5'7"
Weight: 176 lbs
Eyes: Black – Grey
Hair: Brown – White – Yellow
                              ORIGIN

Homeworld: Third Earth
Place of Birth: New Stratos, Aves
                              HISTORY

Aves is a rainforest, mountainous area with temperate weather and plains continent on Third Earth where most bird people live. Sqribek is a powerful Eagle Mutant not to mention fast and agile, able to fly low over the forest floor. Sqribek is the strong and silent type of the group.