Monkian the not so smart member of the Mutant clan. Monkian is wild and uncontrolable, the perfect surbordinate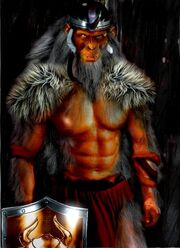 for Slithe, as he follows all orders blindly.
Monkian
is a shifty no-good eavesdropper who is the excitable leader of the
Simians
, a race of
Ape
Men. He often plays the role of scout for the Mutants, and is frequently the first to run from danger. Monkian typically uses his flail and projectile-firing shield when in combat. He pilots one of the Skycutters. In the 2011 Animated Series, though Slythe called him a "Monkian", his real name is
Addicus
. Addicus is a bloodthirsty
barbarian
who committed crimes against an Avestian colony and was sentenced to a death drop from high up in his captors' domain. However, Addicus is rescued from the fall by Slythe and recruited to be one of Mumm-Ra's new generals. Accepting the proposal, Addicus is allowed to get his revenge on the Avestians as Addicus states that they "owe him a last meal." Because of this, he may be a cannibal.