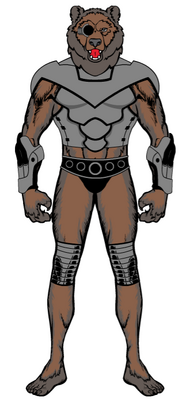 Full Name: Grizzly
                           STATUS

Affiliation: Jackalman's Army
Base of Operations: Castle Plun-Darr
Battles/Wars: The Great Third Earth War
Race: Grizzly Bear / Polar Bear
Marital Status: Single
Skills: Berserker Strength
                               Claws

                               Feral

                               Marksmanship

                               Super Hearing

                               Super Smell

                               Trackin
                               
                               Unarmed Combat

Weapon of Choice: Sonic Chain
                       CHARACTERISTICS


Gender: Male
Height: 6'5"
Weight: 220 lb.
Eyes: Brown – Dark
Hair: Black
                       ORIGIN

Homeworld Third Earth
Place of Birth Cave Harbor, Carnivora
                      HISTORY

Feral member of the Evil Mutants. Grizzly can be tracked in the densely forested areas, tundra regions and open wilderness of Third Earth. Grizzly is not a full hibernator. He will enter a dormant state and can be woken easily. He tends to be solitary and quite territorial. Been known to locate a den, such as a cave, crevice or hollow log, and stay there during the winter months while he's in dormancy.