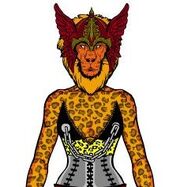 Dar'in-Dar was the Chancellor or Vizier of the Thunderian kingdom called New Thundera. He brought all weighty matters under the notice of the king, "such as complaints, petitions, and wishes of subjects or foreigners. He also drew up papers for the king's guidance, and prepared drafts of the royal will for the scribes. All treaties came under his oversight; and he had the care of the national archives, to which, as royal historiographer, like the same state officer in other worlds, he added the contemporary annals of the kingdom. King Lion-O has addressed to Dar'in-Dar as the "recorder".
Community content is available under
CC-BY-SA
unless otherwise noted.